FREEDCONN TMAX PRO 6 RIDER BLUETOOTH 5.0 MOTORCYCLE INTERCOM WITH MUSIC SHARING – UP TO 1500M RANGE BRIDGE
₨16,750.00
Music Sharing Between two riders
Upgraded speakers for HD audio
Bluetooth 5.0
Can connect to other brand headsets
8 in stock
FreedConn T-Max Pro Motorcycle Bluetooth Headset
FreedConn T-MAX Pro Motorcycle Helmet Headset – Meet all the motorcycle helmet Bluetooth communication and entertainment needs of your ride The FreedConn is a brand dedicated to providing professional Bluetooth communication systems for motorcycle,its goal is to become the leader of the Bluetooth intercom industry.
FreedConn T-Max Pro Motorcycle Bluetooth Headset is a 5.0 Bluetooth HiFi Stereo Headset designed specifically for motorcycles. With the FreedConn T-Max Pro, you can call hands-free on your Bluetooth mobile phone, listen to the best HiFi stereo music, FM radio or voice instructions of Bluetooth enabled GPS navigation units wirelessly, and have conference intercom conversations with up to 6 riders at an intercom range of 1000 meters.
The FreedConn T-Max Pro can connect to other Bluetooth devices supporting HSP/HFP (Headset Profile/Hands Free Profile) and A2DP (Advance Audio Distribution Profile). HSP/HFP is standard in all phones with Bluetooth features. Almost all Bluetooth MP3 players, smartphones, and audio dongles support A2DP to send stereo audio to Bluetooth headsets like the FreedConn T-Max Pro.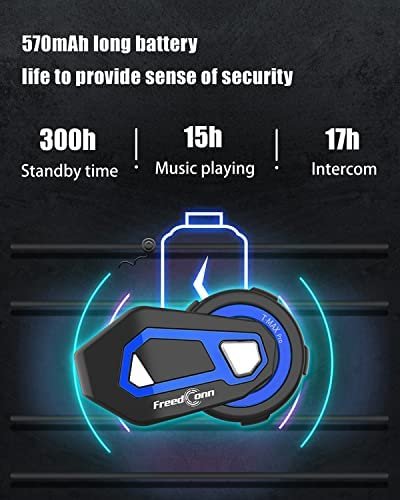 Only logged in customers who have purchased this product may leave a review.